Pro-Growth Policies Hold the Key to Creating New Opportunities for Pennsylvania
Although this year's state budget held the line on broad-based taxes and spared our schools and service providers the negative consequences of last year's prolonged stalemate, I believe the plan didn't go far enough to create an environment in which every citizen has an opportunity for earned success. As we move forward from this debate, I believe it is critical for lawmakers to shift the conversation toward pro-growth policies that will help expand our economy without asking more of taxpayers.
In recent years, budget conversations have focused on false choices. We are frequently told that the budget must be balanced by either raising taxes or cutting spending. However, there is a third option that does not receive nearly enough consideration – supporting business growth through the reduction or elimination of anti-business taxes and policies that prevent companies from relocating to Pennsylvania. Reducing the most burdensome levies and regulations will ultimately help attract more and better jobs to our communities, resulting in revenue growth both from the business activity and the new jobs it supports.
Supporting economic growth also requires lawmakers to address the cost-drivers that continue to bloat our state budget. In order for revenue growth to keep pace with the cost of state government, it is critical for us to root our waste, fraud and abuse of public programs and reform public employee pension systems that have grown exponentially in recent years.
The goals of having a responsible spending plan as well as consistent revenues are not mutually exclusive. I am hopeful that we can move forward with an approach that prioritizes new opportunities for working families without asking them to contribute more of their hard-earned money to support state government.
I recently wrote an op-ed and recorded a video message to discuss the state budget and explore ways that we can truly create an opportunity society for every state resident. The video and op-ed are available here.
---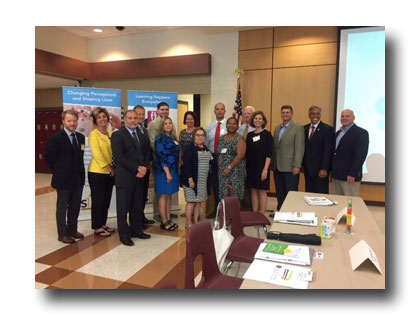 I recently joined my fellow Afterschool Caucus co-chairs Senator John Yudichak and State Representative Mindy Fee in Jim Thorpe to learn more about the Carbon County SHINE Program and its approach to STEM education.
---
Heritage Creek Farm Camp Visits Capitol Hunger Garden
I was pleased that one of Lancaster County's premiere summer learning programs that is focused on agricultural education, the Heritage Creek Farm Camp, recently visited the Capitol to help manage the Legislative Hunger Garden and deliver food from the garden to a local food pantry.
Since 2008, the Legislative Hunger Caucus has participated in outreach initiatives that have raised awareness for hunger. One of the more visible projects of the Caucus is the Capitol Hunger Garden. Located on the State Capitol grounds between the Main Capitol Building and the Ryan Office Building, the Capitol Hunger Garden first broke ground in 2010 with one, simple goal: to create a garden that would provide healthy food to help those in need and to serve as a valuable tool to raise awareness of hunger issues in Pennsylvania. Seven years later, hundreds of volunteers have come to the garden to harvest thousands of pounds of produce to feed many Pennsylvanians in need.
Thank you to Cindi Hughes and her campers who generously offered their time and talents to this important initiative.
---
Community Outreach Events Scheduled
One of my highest priorities is staying in touch with residents of communities throughout northern Lancaster County so I can effectively represent your views in Harrisburg. Over the next several weeks, I plan to host several community outreach events to discuss the issues that are important to you. I hope you can join me at one of these upcoming events.
Coffee and Conversation w/ Senator Aument
Thursday, September 15, 2016 – 9:00 a.m. – 11:00 a.m.
East Earl Township Building
4610 Division Highway
East Earl, PA 17519
Town Hall Meeting
Tuesday, September 20, 2016 – 7:00 p.m.
East Hempfield Township Building
1700 Nissley Road
Landisville, PA 17538
Town Hall Meeting
Wednesday, October 12, 2016 – 7:00 p.m.
Ephrata Borough Council Chambers
124 South State Street
Ephrata, PA 17522