Dear Friend,
In order to keep local residents up to date on state government happenings and community events, I provide electronic news updates on a regular basis for interested citizens. These electronic newsletters allow me to provide regular updates while saving on printing and mailing costs.
If you find this e-newsletter useful, I invite you to visit my website www.senatoraument.com for more information about your state government. If you do not wish to receive these e-newsletters, please click the "unsubscribe" button at the bottom of the page. If you would like to contact my office, please go to my web page and click the "contact" button. Please do not "reply" directly to this e-mail.
Sincerely,
Ryan Aument
---
Collective Bargaining Transparency Bill Advances
Collective bargaining agreements for public-sector employees cost taxpayers more than $3.3 billion per year and cover more than 44,000 workers. It is in the publicís interest to see these contracts negotiated openly and fairly.
I recently introduced a bill that would ensure collective bargaining negotiations are conducted in an open and transparent manner. I am pleased to report that the Senate State Government Committee voted in favor of this proposal this week, clearing the way for consideration by the full Senate.
Senate Bill 643 would amend the Pennsylvania Sunshine Law to require public notice and access to any meeting where a public sector collective bargaining agreement is negotiated. The requirement would apply to collective bargaining agreement negotiations at the local and state level, including ongoing negotiations between Governor Wolf and public employee unions.
If approved by the legislature and signed into law, Pennsylvania would become the 11th state to require full or limited access to collective bargaining sessions involving public employees.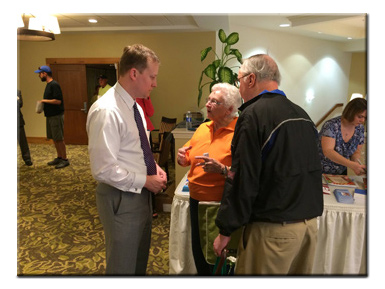 I appreciated the chance to speak with numerous local residents at the Garden Spot Village Business Expo in New Holland last week. More than 80 businesses showcased their products and services at the event.
Town Hall Meetings Scheduled
Meeting with local residents and hearing their perspectives on the issues is one of my most important priorities as an elected official. Over the next several weeks, I will host three town hall meetings and a telephone town hall to answer questions and learn about your views on state and local issues. The four upcoming community outreach events are listed below.
Telephone Town Hall (May 7 at 6:30 p.m.)
Elizabethtown Town Hall (May 9 at 10 a.m. at Masonic Village at the Freemasons Cultural Center)
New Holland Town Hall (June 6 at 10 a.m. at Garden Spot Village)
Manheim Town Hall (June 13 at 10 a.m. at Pleasant View Auditorium)
Senate Committee Explores Pension Issues
The growing cost of public employee pensions creates an enormous strain on the state budget, and fixing this problem is a high priority for lawmakers. A recent hearing of the Senate Finance Committee helped to put the problem in perspective while exploring a number of different pension reform plans that have been introduced in the General Assembly.
Testimony gathered during this hearing will help refine existing pension reform plans to ensure the final product protects the retirement benefits of current and former employees without placing a greater burden on taxpayers. Video of the hearing is available by clicking here.
Members of the Senate Finance Committee also took the first steps toward comprehensive pension reform this week by approving a bill that would convert state legislators from the current defined benefit program into a new defined contribution plan that would be more affordable for taxpayers. I firmly believe that lawmakers must lead by example on this issue, and making this transition is an important step toward reforming the public pension system for all employees.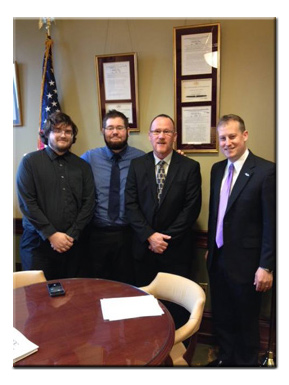 During the Pennsylvania Commission for Community Collegesí annual lobbying day at the state Capitol, I had a chance to meet with several students from the Lancaster campus of the Harrisburg Area Community College. It was interesting to hear about the programs offered by local institutions to prepare students for success in the workforce.
Higher Education Planning Tool Helps Prepare Students, Families
The cost of higher education is one of the biggest expenses for many families. The Pennsylvania Higher Education Assistance Agency offers an online education planning tool that helps students chose schools and programs, as well as providing tips to help budget for college.
The website, www.Educationplanner.com, offers students a wealth of resources to help pick the perfect school and program of study, as well as how to plan a campus visit. Additional information about student aid, grants, loans and scholarships are extremely valuable in creating a financial plan for college expenses. The site also includes calculators and other financial planning tools to show students and families how to make the most of their savings and limit the need for borrowing.
In addition, helpful links guide users to other resources that can be helpful in the college planning process, including links to the Free Application for Federal Student Aid and American Education Servicesí online financial aid tool, www.youcandealwithit.com.