Dear Friend,
In order to keep local residents up to date on state government happenings and community events, I provide electronic news updates on a regular basis for interested citizens. These electronic newsletters allow me to provide regular updates while saving on printing and mailing costs.
If you find this e-newsletter useful, I invite you to visit my website www.senatoraument.com for more information about your state government. If you do not wish to receive these e-newsletters, please click the "unsubscribe" button at the bottom of the page. If you would like to contact my office, please go to my web page and click the "contact" button. Please do not "reply" directly to this e-mail.
Sincerely,
Ryan Aument
---
New Legislative Panel to Focus on Afterschool Programs
It was an honor this week to join more than 200 students, teachers, community leaders, lawmakers and advocates to announce the creation of a new legislative caucus devoted to afterschool programs. These programs have yielded tremendous results in terms of improved educational outcomes, and I look forward to serving as co-chairman of this new caucus.
The Afterschool Caucus will study and support the development of afterschool programs and update all state legislators on pertinent issues relating to Pennsylvania's afterschool infrastructure. I am hopeful that the creation of this new body will expand programs that make a real and meaningful difference to even more students across the state.
Video of my comments regarding the new panel is available by clicking here.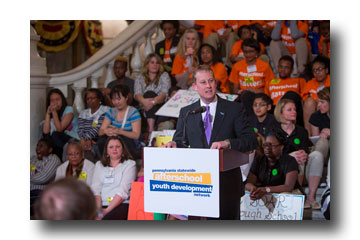 The kick-off event for the creation of the Afterschool Caucus highlighted the importance of afterschool and out-of-school time youth development.
Elizabethtown Town Hall Event Scheduled for Saturday
Over the next several weeks, I will host a series of town hall events to update district residents on what's happening in Harrisburg and hear your perspectives on the most important issues facing our area. The first of these town hall meetings will be held this Saturday, May 9, at 10 a.m. in Elizabethtown at the Masonic Village located at the Freemasons Cultural Center.
I look forward to discussing our regional priorities and getting feedback on legislative proposals that are working their way through the General Assembly. I hope that local residents can join me for this event.
Pension Reform Bill to be Introduced Next Week
Pennsylvania's public employee pension problem has reached a critical stage, and reforming these systems is among my highest priorities for the current legislative session. Next week, Senate leaders will introduce a comprehensive plan that will protect retirement benefits that have already been earned without exposing taxpayers to risks during any future economic downturn.
As a strong advocate for reform, I plan to cosponsor this legislation. Check back on my website at www.SenatorAument.com next week for additional details.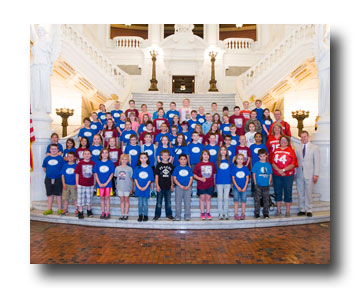 It was a pleasure to welcome students from Brownstown Elementary during their visit to the Capitol. Other local groups whom I've enjoyed meeting in Harrisburg recently include Springville Mennonite School, Conestoga Christian School, Reamstown Mennonite School and Crossroads Mennonite School.
Thanks to Tele-Town Hall Participants
Thanks to all of the local residents who took part in last night's telephone town hall event. The hour-and-a-half conversation covered a wide range of topics, and I appreciated all those who asked questions, expressed their opinions and responded to survey questions. This feedback is extremely valuable to me, and I look forward to sharing the highlights in a future e-newsletter.
Legislation Protecting Great Teachers Advances in the House
The House Education Committee approved a proposal this week that would protect excellent teachers by preventing layoffs based solely on seniority. The legislation, House Bill 805, is a companion bill to a proposal I introduced the Senate.
House Bill 805 and my Senate Bill 5 would allow decisions regarding teacher furloughs to be based on teaching success as measured by Pennsylvania's comprehensive teacher evaluation system. In current practice, schools often force out our best educators simply because they have fewer years of seniority than other, less effective teachers. Excellent teachers lose the opportunity to build a lasting educational legacy for our children, because we unwisely elevate teacher seniority over teaching success.
Pennsylvania is one of only 11 states that still mandate layoff decisions based solely on seniority. Passing this proposal would allow Pennsylvania to end this narrow-minded approach and give all students the chance to learn with the very best teachers.