Dear Friend,
In order to keep local residents up to date on state government happenings and community events, I provide electronic news updates on a regular basis for interested citizens. These electronic newsletters allow me to provide regular updates while saving on printing and mailing costs.
If you find this e-newsletter useful, I invite you to visit my website www.senatoraument.com for more information about your state government. If you do not wish to receive these e-newsletters, please click the "unsubscribe" button at the bottom of the page. If you would like to contact my office, please go to my web page and click the "contact" button. Please do not "reply" directly to this e-mail.
Sincerely,
Ryan Aument
---
Historic Pension Reform Bill Clears Senate
For too many years, rising pension obligations have choked out new investments in our schools and drove local property taxes perpetually higher. Skyrocketing pension payments in the state budget have also prevented tax dollars from being invested in other priorities, including education and other worthwhile state programs.
I was proud to support passage of historic legislation last week to fix the public pension systems, while protecting retirement benefits that have already been earned by retirees and current employees.
Senate Bill 1, which I cosponsored, would cut long-term costs to taxpayers by creating a 401k-style pension system for newly hired employees and give current employees the option to either increase their contribution rate or accept a reduced benefit going forward. Retirees would not be affected by the proposal. Measures are also included to improve management and investment of pension assets, as well as a requirement for lawmakers to participate in the same pension system as newly hired employees.
A non-partisan analysis by the Public Employee Retirement Commission determined the measure would save $18.3 billion over the next 30 years.
While Governor Wolf and others seem to believe that pension bonds constitute reform, that approach only kicks the can further down the road and asks our children to pay for today's unfunded liabilities. The current system is unsustainable and in desperate need of reform. Senate Bill 1 provides that reform in a way that is responsible to taxpayers and fair to current, former and future public sector employees.
Additional details and my remarks on the bill are available here.
Proposals Would Reset Mandatory Sentences for Violent Criminals
Recent rulings by the Pennsylvania Superior Court have struck down mandatory minimum sentences for some of the most horrible and violent criminals in Pennsylvania. A number of violent offenses committed in Lancaster County have brought greater attention to the need for strict sentencing guidelines for these heinous crimes. I was proud to join local lawmakers and law enforcement recently to announce a series of bills to address this problem.

In the near future, I will introduce legislation that would reinstate mandatory sentences for burglary and sexual assault against children. The first bill would institute a mandatory five-year minimum sentence for first-time burglary offenses and an additional 10 years for subsequent offenses. The second bill makes technical changes in the law to re-establish longstanding mandatory sentences for sexual crimes against children.

Additional legislation would create an intermediate level of assault graded as a third-degree felony. The bill would help guide law enforcement and the courts when dealing with substantial, but not life-threatening, bodily injury.

More details about the announcement are available here.
Collective Bargaining Transparency Measures Advance
In recent weeks, I supported passage of two measures designed to improve transparency in collective bargaining negotiations.
Senate Bill 644 requires the Independent Fiscal Office (IFO) to complete a cost analysis of proposed collective bargaining agreements under the Governor's jurisdiction prior to the execution of those contracts.
Under this measure, the Governor would be required to give the IFO two weeks' notice of pending contracts so the agency could determine the costs to cover public employee wages, benefits, pensions, and working conditions under the proposed agreement.
Senate Bill 645 requires any proposed state or local collective bargaining agreement be made available on the public employers' publicly accessible Internet website within 48 hours. An agreement must be posted online two weeks prior and thirty days following the signing of the collective bargaining agreement.
Taxpayers have a vested interest in the labor negotiations between public employers and their employees and deserve the right to review contract agreements. Both of these bills would be concrete steps to ensure collective bargaining agreements can be reviewed by the public before they are executed.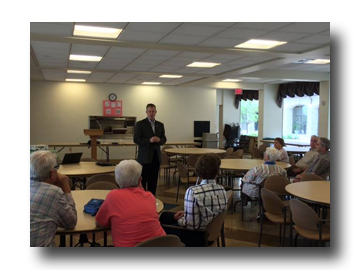 I appreciate all of the local residents who came out to my town hall event in Elizabethtown. The session featured an engaging conversation on some of the most important issues facing our communities.
Upcoming Town Hall Events
In addition to my recent town hall event in Elizabethtown, I have scheduled two other upcoming events to hear local concerns and perspectives on state issues. I hope you can join me for one of these events.
June 4 at 8:30 am. -- Garden Spot Village in the Chapel, New Holland
June 13 at 10 a.m. -- Pleasant View in the Auditorium, Manheim
Health Department Warns of Heightened Lyme Disease Risks
No state has reported more cases of Lyme disease than Pennsylvania over the past five years, and Department of Health officials are warning that the risks will be heightened this year due to the number of deer ticks present in every county. Failure to adequately treat the disease may lead to long-term damage to the heart and central nervous system.
The keys to reducing Lyme disease risk are early detection and prevention. Protective clothing and the use of tick repellents are encouraged, as well as inspecting your body for ticks following any outdoor activity.
For more information on Lyme disease, visit the Department of Health's website at www.health.pa.gov.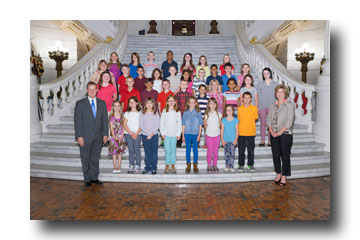 I appreciated the opportunity to meet students from Mount Calvary Christian School on their visit to the Capitol. I also enjoyed meeting students from Shalom Mennonite School and Akron Elementary School recently.