Dear Friend,
In order to keep local residents up to date on state government happenings and community events, I provide electronic news updates on a regular basis for interested citizens. These electronic newsletters allow me to provide regular updates while saving on printing and mailing costs.
If you find this e-newsletter useful, I invite you to visit my website www.senatoraument.com for more information about your state government. If you do not wish to receive these e-newsletters, please click the "unsubscribe" button at the bottom of the page. If you would like to contact my office, please go to my web page and click the "contact" button. Please do not "reply" directly to this e-mail.
Sincerely,
Ryan Aument
---
Wolf's Tax Proposal Draws Unanimous Opposition
In numerous public appearances throughout the state, Governor Wolf and members of his Administration have repeatedly demanded that legislators consider his budget plan as a whole, rather than criticize its individual parts. My colleagues in the House of Representatives recently honored the governor's wishes by putting his tax and spending proposal up for a vote. The result was unanimous – 193-0 in opposition to the Wolf budget. The bipartisan rebuke of the governor's budget is a strong sign that we must consider other, more responsible options.
For months, lawmakers have been telling Governor Wolf there was little support for the idea of adding billions upon billions in new spending and taxes. The governor is fond of extolling the virtues of his new government spending, but he is loath to discuss how he would pay for it. There is very little support in the legislature and in the public at large for a proposal that would add $12 billion in new taxes over the next two years and increase the tax burden on families in every income class in Pennsylvania.
As the Senate prepares to create its own version of the state budget in the near future, I am hopeful the Administration will realize that its proposal to accelerate the unchecked growth in state spending and tax rates is a doomed approach. Pennsylvanians deserve a budget that funds core government services at the lowest possible cost to taxpayers, and that means addressing the major cost-drivers in the budget, including public employee pensions. Producing a fiscally responsible and sustainable spending plan will be my priority as budget negotiations continue.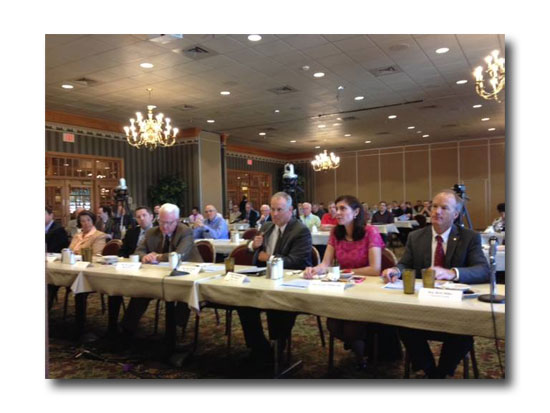 I enjoyed hearing from numerous local businesses at the PA Energy Industry Conference at Shady Maple in East Earl last week. The conference focused on the impact of the natural gas industry in Pennsylvania.
Committees Examine Severance Tax Proposal
This week, I joined members of the Senate Finance Committee and the Senate Environmental Resources and Energy Committee for a joint hearing to examine the governor's proposal to levy a severance tax on natural gas drilling in the Marcellus Shale region. The hearing invited a wide range of perspectives, including financial estimates on the proposed tax rates and testimony from environmental and industry experts.

The hearing showed a deep divide in opinions regarding taxation of the industry and highlighted some of the problems with the governor's proposal. Natural gas companies already pay the same taxes as other corporations, as well as an additional impact fee enacted in 2012. Governor Wolf's proposed severance tax would give Pennsylvania one of the highest natural gas tax rates in the country at a time when natural gas prices are extremely low.

The economic impact of the severance tax proposal is an important consideration as we debate the merits of the governor's plan. Video of the hearing is available here.

I was extremely pleased to welcome some of the local school groups who have visited the Capitol in the past two weeks. In addition to joining Centerville students for this photo, I also enjoyed meeting students from Denver Elementary, Rohrerstown Elementary and Highland Elementary recently.
Capitol Rally Promotes Program for Disabled Pennsylvanians
It was an honor to be invited to speak recently at a rally highlighting the importance of the Pennsylvania Assistive Technology Fund (PATF). The program provides information, assistance and financial education for state residents with disabilities.
In the past 18 months, PATF has extended 17 loans to Lancaster County residents with disabilities for devices such as hearing aids, adapted vehicles, stair lifts, power wheelchair batteries and home modifications. In total, the program has provided information and assistance to 860 people in the past year and helped leverage more than $1 million in grants funding for disabled individuals.
You can hear my remarks during the rally here.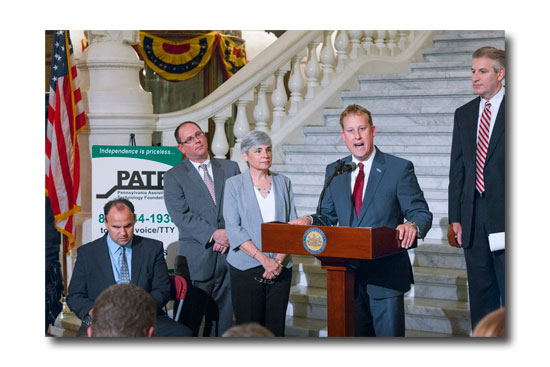 I appreciated the opportunity to speak about the importance of PATF. The program helps Pennsylvanians with disabilities enjoy a better quality of life and participate in the workforce and the community as a whole.
Photos of Vietnam Veterans Sought for Memorial
The Vietnam Veterans Memorial Fund recently launched the Faces Never Forgotten campaign to collect a photograph for each of the more than 58,000 men and women whose names are inscribed on The Wall. A list of Pennsylvania service members whose photos are needed is available here .
Insurance Department Offers Vacation Preparation Tips
As the school year draws to a close in districts across the region, many families are looking forward to summer vacations. The Pennsylvania Insurance Department recently offered a number of tips regarding insurance coverage before leaving on vacation.
Most homeowner's insurance policies cover personal property like clothing and electronics, even if they are lost, stolen, or destroyed during a vacation. It is important for consumers to consult their policy to make sure you know the maximum amount it will cover before deciding which items to take on a trip.
In addition to double-checking homeowner's policies, consumers are encouraged to consult their health insurance policy and be aware of whether there are in-network healthcare options at their destination. Coverage in some policies may not extend to other countries, in which case a travel insurance policy may be needed to help fill network gaps.
Offices
Senate Box 203036
Harrisburg, PA 17120-3036
(717) 787-4420
FAX (717) 783-3156
TTY (800) 364-1581
Lititz Office
301 East Main Street
Lititz, PA 17543
(717) 627-0036
FAX (717) 627-1389