Dear Friend,
In order to keep local residents up to date on state government happenings and community events, I provide electronic news updates on a regular basis for interested citizens. These electronic newsletters allow me to provide regular updates while saving on printing and mailing costs.
If you find this e-newsletter useful, I invite you to visit my website www.senatoraument.com for more information about your state government. If you do not wish to receive these e-newsletters, please click the "unsubscribe" button at the bottom of the page. If you would like to contact my office, please go to my web page and click the "contact" button. Please do not "reply" directly to this e-mail.
Sincerely,
Ryan Aument
---
E-chievement Program Would Support Innovative Approaches to Education
Improving educational outcomes for students is a goal shared by all members of the community. In the near future, I plan to introduce a proposal that would promote teaching strategies that blend traditional classroom instruction with technology to improve student achievement.
My proposal would create a new E-chievement Program to provide competitive grants to schools for hybrid learning programs. This approach would engage students through the use of digital content and other proven methods in addition to traditional classroom instruction to improve academic achievement.
Over the last three years, 50 Pennsylvania schools have successfully launched digital educational strategies focused on student achievement, and these programs have produced remarkable results. Among the participating schools, 94 percent achieved higher academic performance in their hybrid classes compared to non-hybrid (traditional) classes in the same district or statewide benchmarks.
The program follows in the footsteps of Governor Ridge's Link to Learn program, Governor Rendell's Classrooms for the Future program and other projects focused on increasing the use of technology in the classroom. I am hopeful the E-chievement program will help Pennsylvania schools take the next step toward implementing cost-effective and proven teaching models that will benefit students.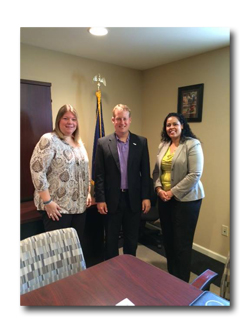 I enjoyed meeting Tricia Nabors of New Choices and Amanda Funk of New Beginnings recently. Both programs provide critical services to help women in transition to achieve self-sufficiency.
Education Reports Detail Quality of PA Educators, Funding Recommendations
Prior to my election to the Senate, I worked with my colleagues in the House of Representatives and teachers, administrators, school districts and education experts to create a new teacher evaluation system that offers educators a comprehensive assessment of their job performance. A recent report detailing the first year of this new system yielded extremely promising results – approximately 98.2 percent of all teachers were rated as satisfactory or better.
These findings speak not only to the quality of educators, but also of the value of an evaluation system that encourages teacher growth and provides constructive feedback.
In addition, the Basic Education Funding Commission released its report this week detailing recommendations regarding potential improvements to the current mechanism for funding public schools. The report advocated the creation of a new funding formula that will distribute state resources based on various student and school district factors.
The report was the culmination of an exhaustive process involving 15 public hearings over the past 11 months. In the coming weeks, I look forward to examining all of the Commission's recommendations thoroughly to determine what impact they would have on local school districts and the statewide education community as a whole.
More information is available here.
Fees Waived for Volunteers Working with Children
Last week, lawmakers and the Wolf Administration announced that fees for child abuse clearances and State Police background checks would be waived for volunteers who work with children. This announcement was a victory for many of the organizations and dedicated volunteers who selflessly donate their time and effort to improve the lives of young people.
Additional information regarding changes to Pennsylvania's child protection laws is available here.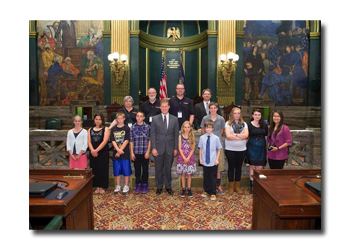 It was a pleasure to host students and volunteers from Cornerstone Youth Center in Elizabethtown during their visit to Harrisburg last week.
Property Tax Rent Rebate Deadline Extended
The deadline for older adults and residents with disabilities to apply for rebates through the state's Property Tax Rent Rebate program has been extended from June 30 to December 31.
The rebate program benefits eligible Pennsylvanians age 65 and older; widows and widowers age 50 and older; and people with disabilities age 18 and older. The income limit is $35,000 a year for homeowners and $15,000 annually for renters, and half of Social Security income is excluded.
Applicants may obtain Property Tax Rent Rebate claim forms (PA-1000) and related information online at www.revenue.pa.gov or by calling, toll-free, 1-888-222-9190. Applications are also available in my district office in Lititz.