Dear Friend,
In order to keep local residents up to date on state government happenings and community events, I provide electronic news updates on a regular basis for interested citizens. These electronic newsletters allow me to provide regular updates while saving on printing and mailing costs.
If you find this e-newsletter useful, I invite you to visit my website www.senatoraument.com for more information about your state government. If you do not wish to receive these e-newsletters, please click the "unsubscribe" button at the bottom of the page. If you would like to contact my office, please go to my web page and click the "contact" button. Please do not "reply" directly to this e-mail.
Sincerely,
Ryan Aument
---
Prolonged Budget Stalemate Demonstrates Need for School Funding Guarantee
Due to the current budget impasse in Harrisburg, many local schools recently opened their doors for the 2015-16 school year without state funding. Although most school districts can continue to operate for several weeks or months through the use of locally generated revenues and reserves, the financial crunch created by Governor Wolf's veto in June will create serious challenges for schools in the coming months if the budget crisis is not resolved.
In April, I joined Rep. Dave Hickernell in introducing legislation that would guarantee all Pennsylvania schools continue to be funded at the previous fiscal year's amount in the event of a delay in passing the state budget. The plan would prevent our schools from being used as political pawns in the negotiation process. It is disappointing that the governor failed to throw his support behind this responsible approach to fund the only budget item mandated by the Pennsylvania Constitution – education.
As the budget debate drags on with little progress, I am hopeful that the General Assembly can take action as soon as possible to provide necessary funding not only for schools, but also for the numerous non-profits and service providers who help vulnerable populations.
Legislative leaders have floated the possibility of enacting a stop-gap budget that will fund the core responsibilities of government while work continues to find some common ground between the General Assembly and the Wolf Administration. In the continued absence of any sort of cooperation or compromise from the governor and his team, I strongly support the idea of taking a different approach to ensure the most critical functions of government are not interrupted.
---
I appreciated the opportunity to discuss efforts to prevent the spread of highly pathogenic Avian Influenza during a recent information session hosted by PennAg Industries Association.
---
Program Supports Military Vets Working in Agriculture Industry
One of the most critical challenges facing veterans after they leave military service is difficulty in finding employment. The Pennsylvania Department of Agriculture recently announced a new partnership with the Homegrown By Heroes (HBH) initiative to support military veterans who work in the agriculture industry.
To promote the sale of homegrown Pennsylvania farm products, the Department of Agriculture currently brands goods made and grown in Pennsylvania with the PA Preferred label. The new partnership will combine the HBH and PA Preferred logos to boost the visibility of products produced in Pennsylvania by veterans.
In order to participate, veterans must have received an Honorable Discharge or General Discharge (under honorable conditions) and be a current PA Preferred member. Businesses or operations that are certified to use the label must maintain 50 percent or greater veteran ownership and 50 percent or greater veteran management control.
More details about Homegrown By Heroes are available online at http://www.farmvetco.org/homegrown-by-heroes/. Additional information about PA Preferred is available at http://www.papreferred.com/.
---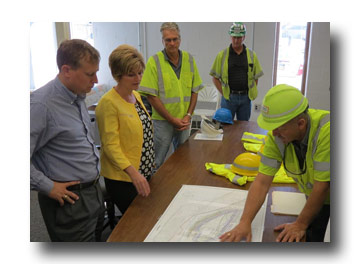 I enjoyed learning more about the operations of Pennsy Supply during a tour of their East Petersburg facility with Rep. Mindy Fee.
---
Online Voter Registration Now Available
Voting is the most important pillar of democracy, and it is important for all citizens to exercise this fundamental right. The Department of State recently launched a new website to make voter registration more convenient by allowing state residents to register to vote online.
In addition, voters who are already registered can use the website to update their information online, such as a change of name, address or party affiliation. The new option makes Pennsylvania the 23rd state to allow online voter registration.
To register to vote or update information, click here.
---
Video Announcements to Feature Constituent Services
Constituents frequently contact me with questions regarding a wide range of common problems, such as applying for various programs and services like disability placards, birth certificates and more.
A new monthly video feature on my website will highlight some of the most important and recurrent issues addressed at my district office in Lititz. More information regarding these new Constituent Service Announcements is available here.
The videos will also be included on my homepage at www.SenatorAument.com.