Dear Friend,
In order to keep local residents up to date on state government happenings and community events, I provide electronic news updates on a regular basis for interested citizens. These electronic newsletters allow me to provide regular updates while saving on printing and mailing costs.
If you find this e-newsletter useful, I invite you to visit my website www.senatoraument.com for more information about your state government. If you do not wish to receive these e-newsletters, please click the "unsubscribe" button at the bottom of the page. If you would like to contact my office, please go to my web page and click the "contact" button. Please do not "reply" directly to this e-mail.
Sincerely,
Ryan Aument
---
Legislation Would Create Online College Comparison Tool
Choosing the right college is one of the most important decisions students and parents will ever make. Representative Bryan Cutler and I recently announced plans to introduce legislation that will create a new online aid to help prospective college students and their parents pick a school that meets their educational and financial needs.
The Higher Education Accountability and Transparency (HEAT) Act would require the Pennsylvania Department of Education to create a comparison tool on its website to allow users to quickly and easily examine many of the factors that are important to parents and students, such as average tuition, graduation and transfer rates, percentage of students receiving federal aid and average borrowing amounts.
The legislation would only apply to community colleges, universities within the State System of Higher Education, Penn State, University of Pittsburgh, Temple University, Lincoln University, Thaddeus Stevens College of Technology and any other institution of higher learning that receives state funding. Nonprofit colleges or universities incorporated in Pennsylvania would also be included.
Many Pennsylvanians are experiencing financial challenges due to student loan debt and the inability to find meaningful employment in the current economic environment. Picking the perfect college and field of study offers students a better opportunity to graduate on time and find gainful employment after graduation.
More information on the proposal is available here.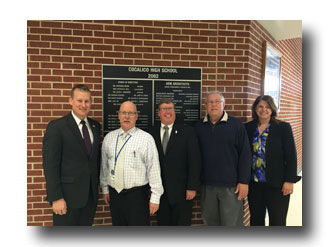 I appreciated the chance to tour Cocalico High School with Superintendent Dr. Bruce Sensenig, School Board President Allen Dissinger, Assistant Superintendent Dr. Ella Musser, and High School Principal Christopher Irvine.
Citizen Report Focuses on Budget Reforms
The latest edition of my Citizen Report TV show focuses on a number of potential reforms to the budget process, including my proposals to create a two-year budget cycle in Pennsylvania and guarantee schools receive funding during a budget impasse. The show features a conversation with some of my Senate colleagues who have introduced other measures to improve the process.
The show is available here.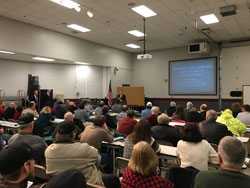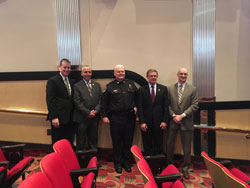 Thank you to all of the local residents and presenters who helped make this week's concealed carry seminars an overwhelming success. A special thanks to my co-hosts
Reps. David Zimmerman and Brett Miller, and Assistant DA Mark Fetterman, Sheriff Mark Reese, East Hempfield Township Police Sergeant Brett Hollis and Ephrata Borough Chief of Police William Harvey for their outstanding work.
Budget Hearings Continue Next Week
The Senate Appropriations Committee recently completed the second week of a three-week series of budget hearings with members of the Wolf Administration and heads of other state departments and agencies. The information gathered during these hearings has been illuminating, particularly as the state grapples with an incomplete budget in the current fiscal year and an Administration that is unlawfully attempting to undo its own budget vetoes.
Summaries and video of each hearing is available online here.
Offices
Senate Box 203036
Harrisburg, PA 17120-3036
(717) 787-4420
FAX (717) 783-3156
TTY (800) 364-1581
Lititz Office
301 East Main Street
Lititz, PA 17543
(717) 627-0036
FAX (717) 627-1389