Dear Friend,
In order to keep local residents up to date on state government happenings and community events, I provide electronic news updates on a regular basis for interested citizens. These electronic newsletters allow me to provide regular updates while saving on printing and mailing costs.
If you find this e-newsletter useful, I invite you to visit my website www.senatoraument.com for more information about your state government. If you do not wish to receive these e-newsletters, please click the "unsubscribe" button at the bottom of the page. If you would like to contact my office, please go to my web page and click the "contact" button. Please do not "reply" directly to this e-mail.
Sincerely,
Ryan Aument
---
Lawmakers Act to Keep Schools Open, Protect Agriculture Jobs
The indiscriminate budget vetoes that Governor Wolf doled out in December have created a funding crisis that may force schools to close in the coming weeks and eliminate critical programs that support the agriculture community. The situation is doubly frustrating since the money to fund these programs is sitting in the state Treasury right now, ready to be released as soon as the governor sees fit to end this stalemate.
This week, I joined lawmakers in voting to reverse the governor's vetoes and drive out funding to our schools, rural hospitals, colleges and Department of Agriculture programs that were targeted for elimination. This vote affirms my commitment to the people of the 36th Senatorial District to fully fund their state government without unnecessarily increasing their personal income or sales taxes.
Additional information on the budget plan is available here.
Although all elected officials have a moral, ethical and Constitutional duty to fund our schools and other services, Governor Wolf has threatened to once again veto the bill once it reaches his desk. I joined with members of Lancaster County's legislative delegation to send Governor Wolf a letter imploring him to sign the budget and prevent unnecessary school closures.
The letter and our joint news release on school funding is available here.
In addition to threatening school closures, Governor Wolf continues to hold hostage our farm businesses and the incredible programs that support them solely for the sake of raising our taxes. Up to 1,100 jobs supporting Pennsylvania farms will be eliminated in the budget is not finalized in the next six weeks. I will continue to work with all parties to help undo the damage the governor is causing to the agriculture community and the millions of Pennsylvania families that rely on this industry.
The Senate and House Agriculture and Rural Affairs Committees hosted a joint hearing this week to examine the impact of these cuts. Additional information on the hearing is available here.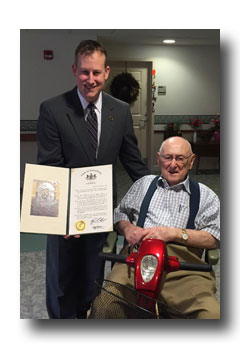 I recently stopped by Garden Spot Village in New Holland to wish resident Bernard Marshall a very happy birthday and present him with a Senate Citation. Bernard is now 100 years young!
Seats Still Open for April Concealed Carry Seminars
I appreciate all of the participants who attended the concealed carry seminars I hosted with Representative Dave Zimmerman in Ephrata and with Representative Brett Miller in Manheim. These events featured an interesting and informative discussion of the rights and responsibilities of gun owners, and I have received a great deal of positive feedback from participants.
I plan to host two similar seminars in April. Seating will be limited, but spots are still open for both events. I encourage you to RSVP as soon as possible to reserve your spot by calling my district office at (717) 627-0036 or visiting my special RSVP page for the events here.

Thursday, April 14, 2016 (w/ Representative Dave Hickernell)
6:30 p.m.
Masonic Village – Freemasons Cultural Center – Deike Auditorium
1 Masonic Drive
Elizabethtown, PA 17022

Thursday, April 21, 2016 (w/ Representative Steve Mentzer)
6:30 p.m.
Lititz Public Library
651 Kissel Hill Rd
Lititz, PA 17543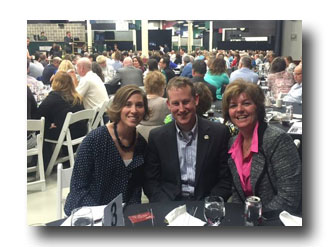 It was great visiting with constituents at the McFEE (Manheim Central Foundation for Educational Enrichment) 13th Annual Kids Count Benefit Auction and Dinner. I am pictured with Rep. Mindy Fee and Penn Township resident Jackie Phillips.
Program Helps Military Families Experiencing a Financial Crisis
Military service takes a serious toll not only on the men and women in uniform, but also on the families praying for their safe return. In order to help reduce the stress on military families, the state offers an innovative financial assistance program to help Pennsylvania service members and their family members in times of crisis.
The Military Family Relief Assistance Program (MFRAP) provides grants of up to $3,500 to eligible Pennsylvania service members and their family members who have a direct and immediate financial need as a result of circumstances beyond their control. The program is funded through donations by taxpayers and individuals.
Pennsylvania Personal Income Tax filers can donate all or part of their refund to support Pennsylvania military personnel and their families in need by checking off the tax refund designation box on their state income tax return. In addition, donations to MFRAP can also be made online at www.donate.dmva.pa.gov or by mail to DMVA Office of Veterans Affairs, Bldg. 0-47, Fort Indiantown Gap, Annville, PA 17003-5002.
More information on the program is available here.