Dear Friend,
In order to keep local residents up to date on state government happenings and community events, I provide electronic news updates on a regular basis for interested citizens. These electronic newsletters allow me to provide regular updates while saving on printing and mailing costs.
If you find this e-newsletter useful, I invite you to visit my website www.senatoraument.com for more information about your state government. If you do not wish to receive these e-newsletters, please click the "unsubscribe" button at the bottom of the page. If you would like to contact my office, please go to my web page and click the "contact" button. Please do not "reply" directly to this e-mail.
Sincerely,
Ryan Aument
---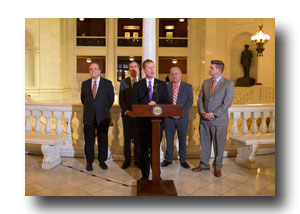 I was pleased to join Lt. Governor Mike Stack and a bipartisan group of lawmakers this week for a press conference in support of my legislation to establish a two-year budget cycle in Pennsylvania. This commonsense reform would limit the amount of time lawmakers spend on the budget process every other year, provide greater predictability of state funding for schools and service providers, and allow for better long-term financial planning. I appreciated the endorsement of Lt. Governor Stack and the 12 Senate cosponsors who have given their support to this effort. More information on my bill is available here.
Governor Wolf's Veto Slashes $17.6 Million from Lancaster County Schools
When lawmakers passed a budget in March that included $200 million in new education funding and $350 million in school reimbursements for construction and renovation, we also sent Governor Wolf a funding formula to ensure these new dollars were distributed equitably across the state.
The formula was the result of a year-long process that brought together legislators, school administrators, teachers, taxpayers and students in order to determine all of the relevant factors that drive the cost of education. This approach was embraced by lawmakers from both sides of the aisle, as well as Governor Wolf.
Unfortunately, instead of allowing this funding to be delivered to our schools, the governor vetoed the budget-related bill that contained the new education funding formula and the school reimbursements. He then chose to create his own formula and send the money to school districts as he saw fit, in direct conflict with state law. His veto also further delayed the construction reimbursements that many school districts rely on to balance their budgets.
As a result of Governor Wolf's veto, Lancaster County schools lose out on approximately $17.6 million in funding.
Lancaster County schools are not alone in suffering from Governor Wolf's subjective cuts. More than $34 million in education funding was siphoned away from rural and suburban school districts and sent to the Philadelphia City School District alone. The governor's funding formula sends $100 million to just three school districts, leaving the remaining 497 school districts to split the remaining funds.
This week, I joined a bipartisan group of lawmakers in voting for legislation that would implement the fair funding formula and also ensure our schools receive the construction reimbursements the state has promised to provide. The bill passed with broad support in both the Senate and the House of Representatives, and I am hopeful that these strong majorities will force Governor Wolf to acknowledge the need to drive out education based on the factors that drive the cost of education, and not based solely on his own political preferences.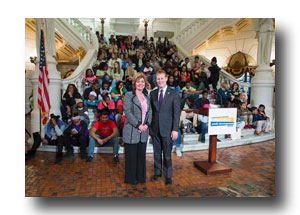 Rep. Mindy Fee and I spoke with those attending the Afterschool Advocacy Day Rally hosted by the Pennsylvania Statewide Afterschool/Youth Development Network at our state Capitol this week.
Education Committee Endorses Guaranteed School Funding Bill
The prolonged budget impasse created serious financial consequences for school districts throughout the state, including a collective loss of up to $50 million in interest payments on loans borrowed by schools just to keep the doors open and the lights on. To this day, many local schools are continuing to feel the effects of this unconscionable and unnecessary interruption in state funding.
This week, the Senate Education Committee took an important step to prevent our schools from ever again being held hostage to any party's political demands. The panel approved Senate Bill 807, legislation I introduced that would guarantee every school district in Pennsylvania will continue to be funded in the event a state budget is not enacted by August 15 of any year. The bill was introduced along with Rep. Dave's Hickernell companion legislation in the House of Representatives in order to keep the promise to the people of Pennsylvania that we support our public schools.
Lawmakers have a constitutional and moral duty to provide a thorough and efficient system of education, and that is a responsibility we should all take seriously. It is essential to do everything in our power to prevent a repeat of the 2015-16 budget debacle. I appreciate my colleagues on the Senate Education Committee for standing up for our schools and students by advancing this commonsense budget reform.
The bill will now be reported to the full Senate and is likely to be referred to the Senate Appropriations Committee, where its fiscal impact will be studied.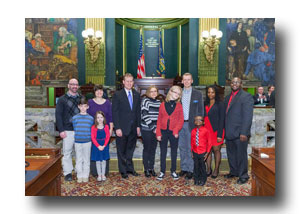 I had the pleasure of introducing three Make-A-Wish children and their families to the Senate this week. Leah Sauder's wish was to go to Disney and meet Tinker Bell. I am happy to share that his wish was granted last January. Kaitlyn Wells had her wish granted to meet LeSean McCoy when the Buffalo Bills played the Philadelphia Eagles this past December. Amir Fowler's wish to go to Disney World was granted last August.
Outreach Events Scheduled Throughout Lancaster County
Staying in touch with the people of Lancaster County is the best way for me to represent your interests in Harrisburg. The people of the 36th Senatorial District are my best resource, and I have scheduled several events in the coming weeks to gather your perspectives on the most important issues facing our community and our Commonwealth.
I have three Town Hall events scheduled in order to give local residents an opportunity to ask questions and share their opinions. The upcoming events include:
Wednesday, April 27 – 6:30 p.m.
Garden Spot Village – Chapel
433 S Kinzer Ave
New Holland, PA 17557

Monday, May 2 – 6:30 p.m.
Mount Joy Township Building
159 Merts Dr
Elizabethtown, PA 17022

Thursday, May 19 – 6:30 p.m.
Pleasant View Retirement Community
544 N Penryn Rd
Manheim, PA 17545
In addition, I have scheduled a pair of "Coffee and Conversation with Senator Aument" events in May to discuss what is happening in our communities in an open and relaxing environment. Participants are not required to stay for the duration of the event; simply stopping by for a few minutes to say hello any time during the event is encouraged. I hope you can join me at one of these upcoming events:
Tuesday, May 24 – 9 a.m. – 11 a.m.
Columbia Crossing River Trails Center
41 Walnut Street
Columbia, PA 17512

Wednesday, June 1 – 9 a.m. – 11 a.m.
Adamstown Borough Office
3000 N Reading Road
Adamstown, PA 19501