Dear Friend,
In order to keep local residents up to date on state government happenings and community events, I provide electronic news updates on a regular basis for interested citizens. These electronic newsletters allow me to provide regular updates while saving on printing and mailing costs.
If you find this e-newsletter useful, I invite you to visit my website www.senatoraument.com for more information about your state government. If you do not wish to receive these e-newsletters, please click the "unsubscribe" button at the bottom of the page. If you would like to contact my office, please go to my web page and click the "contact" button. Please do not "reply" directly to this e-mail.
Sincerely,
Ryan Aument
---
Fiscal Code Amendments Restore $17.6 Million
The protracted 2015-16 budget process came to a merciful end this month when the final piece of the puzzle – amendments to the state's Fiscal Code – were allowed to become law by Governor Wolf. The revised budget restores more than $17 million in basic education funding and school construction reimbursements that the governor had withheld from local Lancaster Country schools during the impasse.
The changes to the Fiscal Code included the creation of a new fair funding formula for education that will ensure education dollars are allocated by the state based on the factors that impact the cost of education, such as local tax effort, geographic price differences and enrollment levels. The bipartisan formula was developed through a series of hearings held in 2014 and 2015 with teachers, administrators, school board members, education advocates, non-profits and business leaders throughout the state.
The final project will provide greater accountability, transparency, predictability and fairness to the education funding process, which should translate into a better quality of education for students.
With work on the 2015-2016 budget finally behind us, we can now begin the difficult process of creating next year's state spending plan. I am hopeful that the upcoming budget debate will be less contentious and disruptive than one we just completed. The Wolf Administration appears to have toned down its divisive rhetoric in recent weeks, and I believe lawmakers and Governor Wolf share a common goal of completing the 2016-17 budget without the painful consequences that resulted from the last impasse.
Regardless of how the next budget debate plays out, the latest stalemate raised serious concerns regarding the state budget process as a whole. Critical reforms are needed to improve the process and ensure any future political disagreements do not lead to grave consequences for our schools and communities. The latest news about my plan to fund schools during an impasse is available here, and video from a recent news conference with the Lt. Governor in support of my proposal to establish a two-year budget cycle is available here.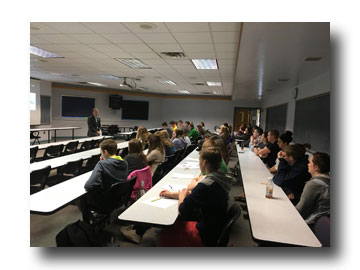 I enjoyed speaking with students this week during Mr. Huesken's Elizabethtown High School Student Town Hall.
Reminder: Outreach Events Scheduled in May and June
I appreciated hearing the thoughts of community residents during my town hall meeting this week in New Holland. These events are a great way for local residents to voice their opinions and concerns about what is happening in our region and in Harrisburg.
Over the next several weeks, I have scheduled a series of town hall meetings and informal "Coffee and Conversation with Senator Aument" events throughout the district. I hope you can join me for one of these events.
Elizabethtown Town Hall
Monday, May 2 – 6:30 p.m.
Mount Joy Township Building
159 Merts Dr
Elizabethtown, PA 17022

Manheim Town Hall
Thursday, May 19 – 6:30 p.m.
Pleasant View Retirement Community
544 N Penryn Rd
Manheim, PA 17545

Columbia Coffee and Conversation
Tuesday, May 24 – 9 a.m. – 11 a.m.
Columbia Crossing River Trails Center
41 Walnut Street
Columbia, PA 17512

Adamstown Coffee and Conversation
Wednesday, June 1 – 9 a.m. – 11 a.m.
Adamstown Borough Office
3000 N Reading Road
Adamstown, PA 19501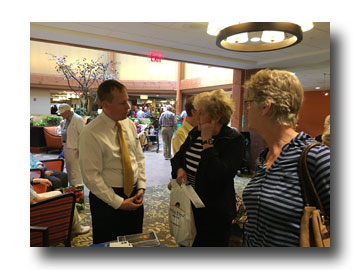 The annual Garden Spot Village Business Expo drew a great crowd, and I appreciated the chance to speak with constituents during the event.
Drug Collection Event Helps Ensure Safe Disposal of Unused Prescriptions
The improper disposal or diversion of prescription drugs creates a number of hazards to the health and safety of state residents. Citizens throughout northern Lancaster County are encouraged to participate in a prescription drug take-back program on April 30 from 10 a.m. until 2 p.m. to ensure outdated and unused prescriptions are disposed of safely and properly.
Prescription drug drop-off boxes will be available at a number of locations throughout the area. At the end of the day, the boxes will be sealed and delivered to a Drug Enforcement Agency check-point for proper disposal. While most prescription drugs are accepted, potentially dangerous items like needles are not accepted.
I am hopeful that local residents will take this opportunity to ensure their expired prescriptions do not fall into the wrong hands or contaminate soil and groundwater due to improper disposal. A list of drop-off locations is available below.
Pennsylvania State Police Department
Drop off Location:
PSP – Troop J, Lancaster Barracks
2099 Lincoln Hwy East
Lancaster, PA 17602

Northern Lancaster County Regional Police Department
Drop off Location:
Giant Food Store
1008 Lititz Pike
Lititz, PA 17543

New Holland Police
Drop off Location:
Garden Spot Village
433 South Kinzer Ave
New Holland, PA 17557

East Cocalico Township Police Department
Drop off Location:
East Cocalico Township Police Department
100 Hill Road
Denver, PA 17517

Northwest Lancaster County Regional Police Department
Drop off Location:
Giant Food Store
1278 South Market Street
Elizabethtown, PA 17022