Dear Friend,
In order to keep local residents up to date on state government happenings and community events, I provide electronic news updates on a regular basis for interested citizens. These electronic newsletters allow me to provide regular updates while saving on printing and mailing costs.
If you find this e-newsletter useful, I invite you to visit my website www.senatoraument.com for more information about your state government. If you do not wish to receive these e-newsletters, please click the "unsubscribe" button at the bottom of the page. If you would like to contact my office, please go to my web page and click the "contact" button. Please do not "reply" directly to this e-mail.
Sincerely,
Ryan Aument
---
Legislation Protecting Excellent Teachers is Headed to the Governor
One of the most important ways we can ensure our children receive a great education is by protecting the quality of teachers in our schools. This week, the Senate gave final legislative approval to legislation that would protect our best and brightest educators from being removed from the classroom.
House Bill 805, which is identical to legislation I introduced in the Senate, would end the practice of teachers being furloughed based on seniority alone. Under current law, the last teacher hired is the first one fired when a school district reduces its complement of educators. Pennsylvania remains one of only six states that mandates seniority be the sole factor in determining layoffs.
Our legislation would require teacher performance to be the first factor considered in furlough and reinstatement decisions by school districts, ensuring the best teachers remain in the classroom. If we want high performing schools where every child has an opportunity to experience earned success, we cannot allow the vestiges of a system that protects low-performing educators to remain.
It is unfortunate that Governor Wolf has threatened to veto this legislation, not on the basis of good public policy, but rather on the misleading objections of a very small number of special interest groups. If we want to reach the governor's stated goals of promoting "schools that teach," we can only do so with the very best teachers.
As authors of this proposal, Rep. Stephen Bloom and I recently sent Governor Wolf a letter urging him to reconsider his promised veto and arrange a meeting with us as soon as possible to discuss the merits of this legislation. We also took part in a news conference with groups supporting the bill, including the Pennsylvania School Boards Association, the Pennsylvania Association of School Business Officials and the Pennsylvania Association of School Administrators.
I firmly believe that we cannot continue to support a system that perpetuates the status quo and promotes failing teachers over distinguished educators. I remain hopeful that we can convince Governor Wolf to sign this legislation and put the interests of Pennsylvania students first.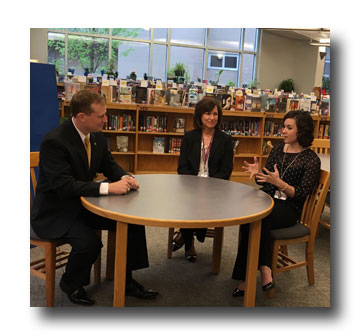 During my recent visit to Manheim Central Middle School, I appreciated the chance to discuss education issues with Interim Principal Debbie Rill and Coordinator of Online Learning and Technology Integration Liz Lubeskie.
New Citizens' Report TV Show Focuses on Education
The most recent edition of my Citizens' Report TV program focuses on education issues. The show includes a discussion with Senator Lloyd Smucker, who serves as Chairman of the Senate Education Committee. I also meet with educators at Manheim Central Middle School to talk about their innovative Hybrid Learning Program.
The show is available here.
Don't Miss These Upcoming Community Events
I have held a number of community outreach events in recent weeks, and I deeply appreciate all of the feedback I have received during these gatherings. Three additional events still remain on the calendar in May and June. I hope you can join us to participate in a discussion about the most important issues in our local communities.
Manheim Town Hall
Thursday, May 19 – 6:30 p.m.
Pleasant View Retirement Community
544 N Penryn Rd
Manheim, PA 17545

Columbia Coffee and Conversation
Tuesday, May 24 – 9 a.m. – 11 a.m.
Columbia Crossing River Trails Center
41 Walnut Street
Columbia, PA 17512

Adamstown Coffee and Conversation
Wednesday, June 1 – 9 a.m. – 11 a.m.
Adamstown Borough Office
3000 N Reading Road
Adamstown, PA 19501
I enjoyed speaking with students from Denver Elementary School during their recent visit to our State Capitol.