Dear Friend,
In order to keep local residents up to date on state government happenings and community events, I provide electronic news updates on a regular basis for interested citizens. These electronic newsletters allow me to provide regular updates while saving on printing and mailing costs.
If you find this e-newsletter useful, I invite you to visit my website www.senatoraument.com for more information about your state government. If you do not wish to receive these e-newsletters, please click the "unsubscribe" button at the bottom of the page. If you would like to contact my office, please go to my web page and click the "contact" button. Please do not "reply" directly to this e-mail.
Sincerely,
Ryan Aument
---
Efforts to Protect Excellent Teachers Will Continue Despite Governor's Veto
No factor has a bigger impact on the quality of education our children receive than the quality of teacher who instructs them. I have had the privilege of meeting numerous dedicated and talented educators during tours of schools throughout northern Lancaster County during my time in the General Assembly, and without exception, I have come away from these visits extremely impressed with the work they are doing to provide educational opportunities to young people in our region.
When I sponsored the Protecting Excellent Teachers Act, these are exactly the kind of educators I set out to safeguard. This legislation would end the practice of seniority-based layoffs in the unfortunate event that a district is forced to reduce staff. Instead, teachers would be evaluated by a comprehensive system that was developed over the course of several years with input from teachers, school board members, administrators, advocates and others who are dedicated to achieving the best outcomes for students.
In spite of the broad public support for this proposal and letters of support from members of both sides of the aisle, Governor Wolf vetoed this critical reform on the advice of the teachers' union. It is extremely disappointing that the governor chose to support the interests of a select few adults instead of standing up for children and taxpayers.
Although this veto presents a temporary setback, it will not prevent lawmakers and advocates from continuing the push to protect excellent teachers. I will continue to work with all interested parties who believe that the concept of "schools that teach" should be more than just a campaign slogan.
As schools continue to confront the growing financial challenges brought on by increasing pension obligations and personnel costs, it is crucial to ensure our best and brightest educators remain in the classroom where they belong. As the attention of lawmakers turns to completion of the state budget in June, I am hopeful that we can renew the push to ensure we get the most out of every dollar we invest in our schools by ensuring those who are responsible for educating our students are the very best individuals for the job.
My full statement regarding the governor's veto of the Protecting Excellent Teachers Act is available here.
I enjoyed visiting with 4th grade students from Reamstown Elementary School during their visit to the state Capitol.
Conduct of Former DEP Secretary Deserves to be Scrutinized
Former Pennsylvania Secretary of the Department of Environmental Protection John Quigley abruptly resigned from his position last week in response to the release of an incendiary and expletive-filled email he sent to an environmental advocacy firm where he once worked. His conduct raises serious questions about his ability to appropriately apply environmental law through regulation during his tenure as head of one of the most important agencies in state government.
Since he first took the job last year, I have heard from many constituents in Lancaster County and industries across Pennsylvania who expressed frustration with the DEP relative to the development of responsible and appropriate environmental regulations and the fair issuance of environmental permits. Given Secretary Quigley's open advocacy against any Democrat or Republican lawmaker who happens to disagree with his personal positions, I believe a broader investigation into his conduct is warranted.
More information on my call for an investigation into the conduct of the former Secretary of DEP is available here.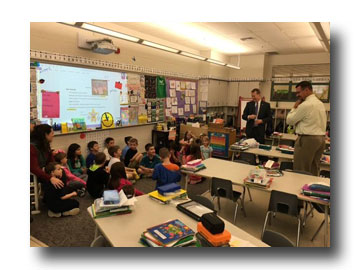 I appreciated the chance to speak with students and educators at Donegal High School and Donegal Primary School during a recent visit.