Dear Friend,
In order to keep local residents up to date on state government happenings and community events, I provide electronic news updates on a regular basis for interested citizens. These electronic newsletters allow me to provide regular updates while saving on printing and mailing costs.
If you find this e-newsletter useful, I invite you to visit my website www.senatoraument.com for more information about your state government. If you do not wish to receive these e-newsletters, please click the "unsubscribe" button at the bottom of the page. If you would like to contact my office, please go to my web page and click the "contact" button. Please do not "reply" directly to this e-mail.
Sincerely,
Ryan Aument
---
Timely, Responsible Budget Sent to the Governor
This week, lawmakers sent Governor Wolf an on-time, fiscally responsible state spending plan. In sharp contrast to last year's protracted budget impasse, the Governor is expected to sign the bill into law soon.
The budget made education a top priority, boosting basic education funding by $200 million, pre-K by $25 million, special education by $20 million and Head Start by $5 million. The new education dollars will be driven out to school districts based on the new funding formula developed by lawmakers over the past several years with input from teachers, school administrators, school board members and education advocates.
Funding for agriculture and higher education also received increases. The Department of Agriculture's budget was boosted by 5 percent, and funding for colleges was increased by 2.5 percent. An additional $15 million was allocated to combat the opioid and heroin addiction crisis.
While I was pleased to join lawmakers from both sides of the aisle to support a bipartisan budget compromise, the spending plan also showed the importance of addressing the pension crisis. Nearly half of all new money in the budget was devoted to required payments for public employee pensions. Addressing this funding crisis is absolutely necessary in order to protect the financial wellbeing of our schools and our Commonwealth.
More information on the budget is available here.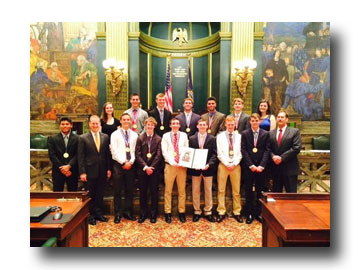 It was an honor to welcome Coach Mike Vogel and the 2016 PIAA State Class AAA Boys' Volleyball Champion Hempfield Black Knights to our State Capitol this week.
Senate Panel Approves Bill to Help School Districts Share Costs, Responsibilities
As the cost of public education continues to rise, it is critical for school districts to explore every option to save taxpayer dollars and limit property tax increases. The Senate Education Committee gave unanimous approval this week to legislation I introduced to allow school districts to enter into partnerships to perform routine administrative functions.
Senate Bill 1332 authorizes school districts to enter into an agreement to share administrative personnel, including superintendents, business administrators, office personnel and management. Other services, such as transportation, maintenance, purchasing and technology resources, could be shared between districts. The Department of Education would be responsible for offering technical assistance to participating school districts and to develop a grant program to support ongoing partnerships.
The legislation was inspired by the recent decision by two Lancaster County school districts to share a superintendent next year in order to cut costs. This is exactly the kind of innovative thinking that we need to help stem the tide of growing education costs.
Local Transportation Updates Available Online
Throughout the region, a number of road and bridge construction projects are either already underway or in the planning stages. I recently created a transportation update page on my website to give local residents the most up-to-date information on local infrastructure projects, including proposed schedules, costs and detours for larger projects.
More information on transportation projects of local interest is available here.