Drug Abuse Awareness Campaign Aims to Prevent Overdose Deaths
The number of deaths attributed to heroin and opioid abuse in Pennsylvania has skyrocketed in recent years, leaving deep scars on communities in every corner of the state. A new drug abuse awareness campaign was recently approved by the Pennsylvania Department of Drug and Alcohol Programs to help stop drug addiction before it starts and encourage individuals who are already suffering from addiction to seek help.
The awareness campaign includes website and digital advertising, flyers and posters, print and broadcast ads, outdoor advertising and other resources to help educate parents, teachers and family members about risk factors that can lead to addiction. Additional resources are available to help visitors learn about how to avoid an overdose, how to help an individual who is suffering from an overdose, and where to find help for an addiction issue.
More information on these and other issues related to the heroin and opioid epidemic is available at www.PAStop.org.
---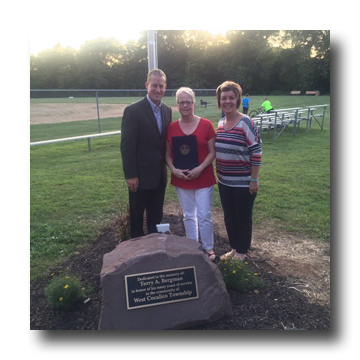 It was an honor to join Rep. Mindy Fee and Sally Bergman at Chapel Gate Park in West Cocalico Township to dedicate a new trail in honor of our former Sheriff Terry Bergman, who passed away last summer after many years of dedicated service to the community.
---
Op-ed Explores Education Issues
The Pennsylvania Constitution requires lawmakers to guarantee a thorough and efficient public education system to ensure every child has an opportunity to succeed. I recently wrote an op-ed that explored some of the challenges in meeting this obligation, as well as a number of measures that were recently signed into law to help school districts meet this crucial goal.
The op-ed is available on my website here.
---
Over the last week I have enjoyed visiting with the Elizabethtown Fair. Lancaster County is home to some of the best local fairs that celebrate our rich agricultural heritage and promote our local economy. Fairs are also great events for members of our communities to come together and enjoy terrific food, games, rides, and cheer for their friends and neighbors who showcase their animal husbandry and farming skills. In addition to offering some remarks at the opening of the Elizabethtown Fair, I was pleased to place third in the fair's annual cow milking contest. I was joined in that effort by Lancaster County's Dairy Princess, Hanna Welk.
---
New Online Scheduling Tool Available Now
Staying in touch with the needs of local communities is my top priority. In order to ensure the concerns of community residents are addressed, I recently added a new scheduling option on my website to make it easier for local residents to schedule an appointment with me. The new page, located under the "Contact or Meet With Me" tab at www.senatoraument.com, allows visitors to enter their contact information and include a brief explanation of their issue so a convenient meeting time can be arranged.
Please do not hesitate to use this new tool to schedule a meeting or to receive help with any issue or problem pertaining to state government.
---
Outreach Events Coming Up Soon
In the weeks to come, I look forward to hearing your perspectives on the most critical issues facing our community and our state. I invite you to join me at one of these upcoming outreach events so you can share your thoughts and concerns regarding state government and how it interacts with local communities.
Coffee and Conversation w/ Senator Aument
Thursday, September 15, 2016 – 9:00 a.m. – 11:00 a.m.
East Earl Township Building
4610 Division Highway
East Earl, PA 17519
Town Hall Meeting
Tuesday, September 20, 2016 – 7:00 p.m.
East Hempfield Township Building
1700 Nissley Road
Landisville, PA 17538
Town Hall Meeting
Wednesday, October 12, 2016 – 7:00 p.m.
Ephrata Borough Council Chambers
124 South State Street
Ephrata, PA 17522