Senate Approves First Step Toward Budget Reform
State budget controversies over the past two years have exposed numerous flaws in the process, and these shortcomings threaten to create serious consequences for taxpayers in the future. The Senate took the first step toward real reform this week by passing a bill that would implement performance-based budgeting. The measure would require state agencies to justify all budget requests for new and existing programs in order to promote greater efficiency in government and prevent wasteful spending.
I am hopeful that passage of this legislation will help build momentum toward other reforms in the budget process, including a measure I have introduced to reduce partisan budget battles and improve long-term planning through adoption of a two-year budget cycle.
---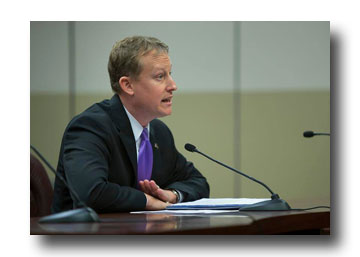 The Senate Transportation Committee approved legislation this week that would allow our Pennsylvania dealers to use out-of-state title reassignments just as their competitors do in other states. I introduced the bill after the issue was brought to my attention by a constituent and local automotive dealer.
---
Op-Ed: The Thin Blue Line
Throughout the past year, a number of questions have been raised across the country regarding the relationship between law enforcement and the communities they protect. I recently contacted local police departments throughout northern Lancaster County to request a "ride-along" with an officer to get a first-hand look at police interaction with the public, and I was pleased that many departments agreed to give me that opportunity. I shared some of my experiences and thoughts in my latest op-ed, available here.
---
There was a great turnout for Rep. David Zimmerman's Farmers Breakfast this week at Shady Maple. I appreciated the opportunity to speak to farmers attending this important meeting.
---
Ephrata Town Hall Meeting Scheduled for October 12
Over the past two weeks, I have hosted a pair of town hall meetings in East Earl and Landisville to gather local perspectives on some of the most important issues facing our community and our commonwealth. I appreciated all of the feedback I gathered during these two events.
On October 12, I look forward to hosting another town hall in Ephrata. The event will be held at 7 p.m. in the Ephrata Borough Council Chambers, located at 124 South State Street. I hope you can join me for this meeting to share your views.
---
Thank you to Pastor Hubert "Hub" Smith of Columbia Christian Fellowship Church for serving as our Senate Guest Chaplain on Monday, September 27.
---
Outreach Events Coming Up Soon
In the weeks to come, I look forward to hearing your perspectives on the most critical issues facing our community and our state. I invite you to join me at one of these upcoming outreach events so you can share your thoughts and concerns regarding state government and how it interacts with local communities.
Town Hall Meeting
Wednesday, October 12, 2016 – 7:00 p.m.
Ephrata Borough Council Chambers
124 South State Street
Ephrata, PA 17522
Offices
Senate Box 203036
Harrisburg, PA 17120-3036
(717) 787-4420
FAX (717) 783-3156
TTY (800) 364-1581
Lititz Office
301 East Main Street
Lititz, PA 17543
(717) 627-0036
FAX (717) 627-1389